Neil Faulkner
We are deeply saddened by the death of our long-standing colleague and dear friend Neil Faulkner. Neil has been working with us since 2000 writing across all of our magazines and editing Military History Monthly since its first issue. He was a wonderful man, and will be sorely missed by all at Current Publishing

Obituary
By Patrick Mercer.
Everyone, staff and readers, lost a great friend when Neil Faulkner died aged just 64. He'd been ill with lymphoma for several months, but his irrepressible cheerfulness, positivity and great drive convinced many that this was a crisis from which he would successfully emerge. It did not happen and that's a huge loss to the military history, archaeological and revolutionary political communities.
From Kent, born in 1958 and educated at Skinners' School in Tunbridge Wells and King's College Cambridge, his choice of degree - Social and Political Sciences - signalled his enduring belief and activism for left wing causes. Indeed, he was never happier than when writing and presenting his political views.
Whether you agreed or disagreed with his polemical opinions, he never let that influence his extraordinary work as both a distinguished archaeologist and military historian. Two, major archaeological projects were founded by him which, he punned, were 'ground breaking'. The Great Arab Revolt Project lasted a decade and allowed Neil's dual interests to overlap, discovering and illuminating so many unknown aspects of Lawrence of Arabia's operations. Second, he initiated then led and nurtured the Sedgeford Historical and Archaeological Project which explored several sites in Norfolk ranging from a Christian Anglo-Saxon cemetery to a Second World War aerodrome. The project continues, owing everything - and as a tribute - to his drive and energy.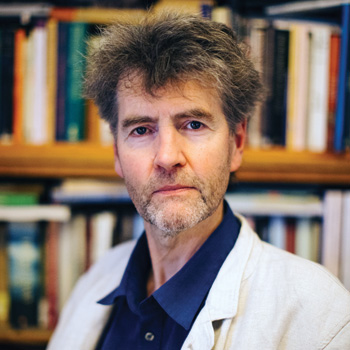 Having been a teacher for a while after University, he brought a great rigour to his writing. His myriad books that were published ranged from Empire and Jihad to The Decline and Fall of Roman Britain, but it was his editorship of Military History Matters where the full gamut and elasticity of his knowledge became apparent. As a contributor, heaven help you if copy was late or, worse still, you'd made a mistake. But it was his manner of correction that was so remarkable and pointed to the essential characteristics of the man. He demanded the highest standards of both himself and his team, whilst ensuring that he got them with a lightness of touch, charm and ever present, self deprecating humour. It's a reflection on the power of his character, though, that this obituary is being written in the certain knowledge that Neil, the lynx-eyed editor, stands ready with his correcting pen!

This was never more evident than when he presented his studies or guided audiences in the field. Making no secret of his politics, there was some trepidation amongst elements of the House of Commons Defence Committee when Neil led a battlefield tour for them around Cassino. Dressed, perhaps curiously, in shorts, cheesecloth shirt and a straw fedora to fend off the drenching rain, this audience - like all his others - listened, enthralled, any reservations lost in Neil's erudition.

Neil is survived by his partner Lucy and his three children Tiggy, Rowena and Finnian. Stoical, almost to the point of insouciance, about the invader in his body, I shall miss his Zoom calls with the poster of Che Guevara in the background. The laughter and stainless steel resolve of everyone's favourite stormy petrel will be hard to replace: our hearts go out to his family.